Neighborhood Preservation
We are a Historic District:
On April 8, 2009 the city of Houston passed a resolution to declare our subdivision a Historic District.
The preservation ordinance, in effect since October 22, 2008 can be found below

The boundaries on the West side are slightly set back from Montrose (see map )

Read the report prepared by the city planning department




804 Harold is a Protected Landmark of the City of Houston and on the National Register of Historic Places; it was built in 1915 by E.L. Crain & Company for Joseph & Mary Stevenson, and is an exceptional example of Arts & Crafts architecture.

Predominantly Craftsman in style, it also contains elements of Prairie style, has Tudor influences, and even a somewhat Japanese character. It was designed by Joseph Stevenson, and was built with money from Mary's inheritance.

Joseph Stevenson was a carriage maker by trade and in 1903 began a long and successful partnership with a blacksmith named C. Jim Stewart. In addition to building and repairing wagons and buggies, they operated the largest horseshoeing parlor in Texas. Changing with the times to provide auto body and engine services, the firm they founded now provides engineering services and power systems worldwide. In 1991, Stewart & Stevenson was named to the Fortune 500 List of Industrial Companies. The Stevensons lived here until moving to River Oaks in 1945.




809 Harold is the oldest home of Audubon Place still standing. Built in 1913 by the Houston Land Corporation, this classic Craftsman-style bungalow was purchased by car dealer John Lewis for $6,500. It was later the home of Swiss-born Dr. Bernard Bunnemeyer, who was in charge of the Houston Weather Office for many years, and his son-in-law, Lucius Talmadge, the financial editor for the Houston Chronicle.

This house has beautiful inlaid floors, built-in nooks, window seats, cabinets, and beamed ceilings in the living room and dining room, all of quarter-sawn oak. Notice the stick-style columns and brackets, and especially the front porch and chimney which are made of milky quartz.




3419 Audubon is perhaps the most flamboyant home of Audubon Place. The large yellow 2-story with the tall white columns is Neo-Classical in style. Notice how much taller it is than the bungalows on either side; its dimensions are really closer to Victorian in scale. It was built in 1914 for $4,000 by James & Katherine Dore. He was sales manager for the Houston Car Wheel & Machine Company, suppliers to the railroad industry.




3404 Audubon Place was built in 1923 as a typical California bungalow exhibiting classic Craftsman influences.




3405 Audubon Place was described by the Houston Daily Post in 1917 as being "one of the most up-to-date and excellent bungalows ever constructed in Houston". It exhibits classic Craftsman influences such as exposed rafter tails and triangular roof brackets.




3407 Audubon Place is classic Prairie style, with its long front porch, hip roof, window mounting designs, broad eaves and brackets. It was built for Oscar P. Jackson, who owned one of the largest garden seed companies in the Southwest. Justice of the Peace Wallace & Enid Ragan lived here for many years. It was beautifully restored in 1996 by Tony Herrada and Peter Boyle.







3416 Audubon Place. This huge 2-story Prairie-style brick duplex was built in 1923 for C. Louis Kerr, who was the District Sales Manager for Gulf Refining Company. It is an "over & under" duplex with the entrances on two different streets.






3503 Audubon Place.In dramatic contrast to the tall yellow house we have a classic example of what is called an "aero plane style" bungalow. It is so called because the long low roof lines resembled the biplanes and aero planes of the day. Notice how the front porch roof even extends over to the right to provide a porte cochere or carport. It was built in 1920, and banker Roy Huffington was the first resident. This house has a large, beautiful French-curve arch between the living room and dining room. I met his son Roy in The Hague, Netherlands in 1967. He was then building his oil & gas empire Huffco and was looking for a geophysicist to work hi Indonesia. He was ambassador to Austria during the first Bush administration. He had a large office in downtown Houston. His former daughter-in-law Arianna Huffington is heavily involved in politics in California




3506 Audubon Place. Edna W. Saunders was a famous impressario. In 1919 she brought the French Army Veterans Band and the New York Philharmonic Orchestra to Houston for the first time. In 1920, she sold $26,000 in advance tickets for a legendary concert by the Great Caruso.

Some of the artists she promoted included The Metropolitan Opera, The NBC Symphony Orchestra with Arturo Toscanini, Irish tenor John McCormack, Al Jolson, Harry Lauder, Jose Greco, Ethel Barrymore, Will Rogers, Sigmund Romberg, the Ziegfield Follies, Admiral Byrd, Bob Hope, Jeanette McDonald, the Boston "Pops" , and the Chicago Opera Company.Mrs. Saunders' contribution to the cultural development of Houston was immeasurable, and she often entertained many of the world's greatest artists right here around her grand piano




3602 Audubon Place. This large 2-story Craftsman-style house was built in 1913 for $4,450 by Theo C. Bering for his daughter Leonora and her new husband Albert Armand. Only two months after the wedding, burglars cut the phone lines, broke in and stole over $1,200 in wedding presents and silver. When Mrs. Armand passed away Houston's most renowned clergyman, Dr. William States Jacobs, conducted her funeral service here at the residence.











Location: 3611 Audubon Place. This Live Oak (Quercus Virginiana) is registered with the Harris County Tree Registry (index 263). It has a circumference of 181", a height of 54' and a crown spread of 114'. Only 8 Live Oaks in Harris County have a spread that exceeds this one. It was nominated by Lynne Gevirtz.




3702 Audubon Place. This unusual California-style bungalow was built in 1922 by Ewart & Lillian Lightfoot. He was superintendent of construction for the George T. Broun Construction Company. Originally from Kentucky, Lightfoot was a prominent building contractor in Houston for 25 years. He was founder and president of the United Motor Courts of America. He lived here until his death in 1950; the house is still owned by his family.




609 Harold. Built in 1914 by contractor and homebuilder Herman and Alice Vogt, this beautiful frame and shingle home was sold to John & Louise Brown. Brown was a printer by trade with Gumming & Sons. Note the unusual wrap¬around shingled porch with its broad arched bays.

In 2001 the house was extensively remodeled by John Hathcote and Jack Butcher. They did an outstanding job and were nominated for the "Good Brick Award" by the Greater Houston Preservation Alliance.




617 Harold. This unusually decorated house was built in 1918 for Thomas Howell, who listed these professions in the City Directory: real estate, loans, investments, stock raiser, planter, notary, old coins & paper currency, dealer in lumber and owner of the Howell 1,335 acre farm in Howell, Texas.

This house is an interesting mixture of styles - the shingle treatment on the second floor is similar to a type of Queen Anne Victorian known as shingle style, the gables are Arts & Crafts, the enclosed eaves show Prairie influences. Old photographs show the verge boards to be even fancier originally, with a sunburst pattern up at the top. There are several other houses in this neighborhood with similar decorations; probably the work of a particular architect, who as yet remains unknown. This house was once a 5-plex but has luckily been rescued back to single family.




603 Marshall. The home was built in 1916 in prairie style with a Georgian revival front entrance porch. Bought by Kathi and Brian Stringer in 1988 it was restored and the interior renovated. The Stringers own Brian Stringers Antiques on W. Alabama. They are both collectors and have decorated their home with eclectic style. Their home made the front page and cover story of Houston Life Magazine in September 1994.




612 Marshall. This fancy house was built in 1919 for insurance man Percy Nelson and his wife Amelia. This home was recently featured as the cover story of Houston House & Home Magazine.




615 Marshall. The house is built in traditional craftsman style with exposed rafters and brackets. Until 1985 it was used as a duplex. A second entrance was present on the Western side, leading into the stairwell. The house was lovingly restored in 1990 by James and Linda Hine. A large 20 foot stained glass window was installed where the entrance to the upstairs apartment once stood. An attached two-car garage with two rooms on the second floor, were added while painstakingly maintaining the original style. Downstairs the house still has the original hardwood floors with cherry wood trim.




707 Marshall. This unusual "airplane" bungalow was built about 1918. In 1921 railroad freight agent McDade Wilburn bought the house, and it has been in the same family until 1988.

Mrs. Sara Ella Jones grew up in the house. After her first marriage she married her High School sweet heart Lewis LeMaistre and bought the house in January 1988. They lived there until they both passed away in 1999 [PvB].




Preservation
Our neighborhood cares deeply about preserving what little is left of historic Houston.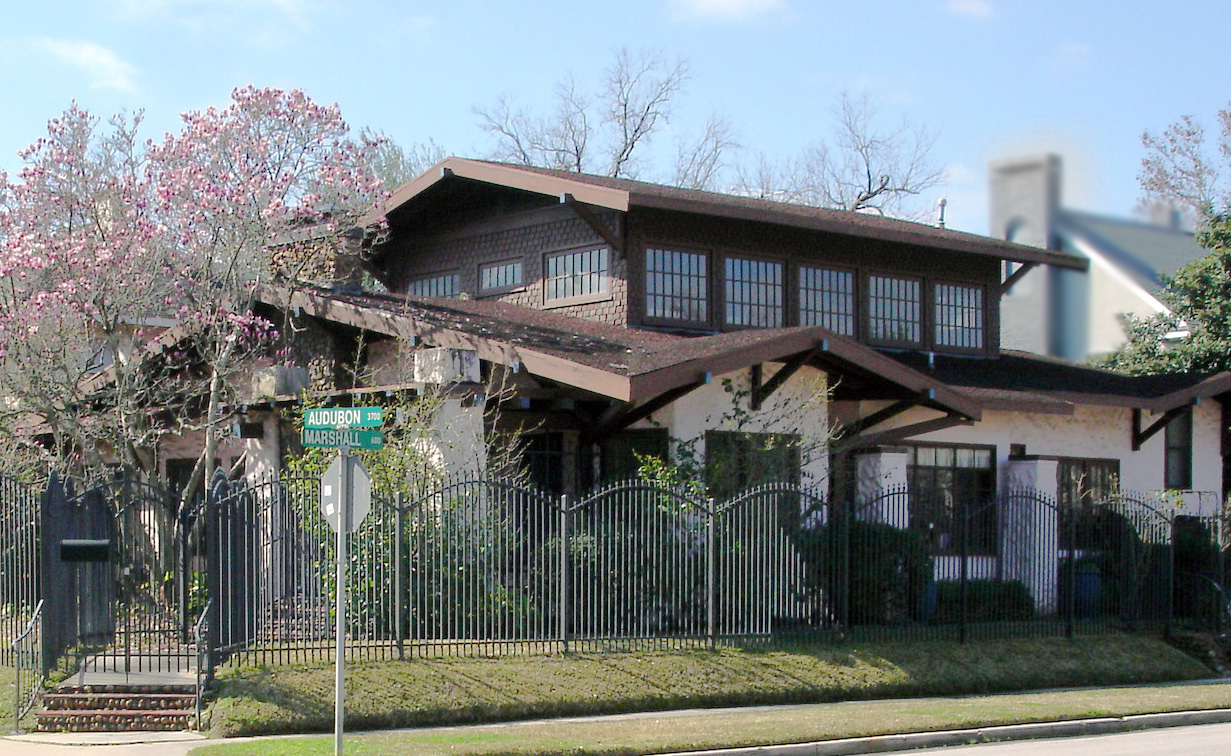 This unusual California-style bungalow was built in 1922 by Ewart & Lillian Lightfoot. He was superintendent of construction for the George T. Broun Construction Company. Originally from Kentucky, Lightfoot was a prominent building contractor in Houston for 25 years. He was founder and president of the United Motor Courts of America and was an avid big game hunter. He lived here until his death in 1950; the house is still owned by his family.

The design shows influences, of Frank Lloyd Wright's creative adaptation of Japanese architecture and the Mission style found in both California and Texas. Note the cobblestones, the knobby texture of the stucco and the original garage that is part of the house, a very uncommon feature. The cobblestones came from Spain, and were formally used for ballast on a merchant ship. The second floor was added in 1925 as a large ball room to celebrate his daughter Maxine's graduation party [PvB].

Remember the transcontinental railroad track we mentioned earlier in the tour? Mr. Lightfoot had to remove large amounts of coal from this lot before building this house.
(from Gary Coover's walking tour)

The house was written up in the Houston Architectural Guide of the AIA in 1990.


Special Minimum Building Line and Lot Size
Forms for a special minimum building line or minimum lot size petition maybe obtained from the Planning department website. There is a complicated formula for computing the setback or the lot size and this depends on whether the area is a designated historic district. The owners of a minimum of 51% of the area on a street face must sign the petition. Several streets in our neighborhood have been awarded a special building line of over 20' and a minimum lot size of 6000 sqft.
The above information is based on the City of Houston web site. Read more

For a list of streets with special covenants
see the "About" page


Deed Restrictions
We are a deed restricted community; exclusions apply.
See the restrictions on the "About" page